Photography Workshops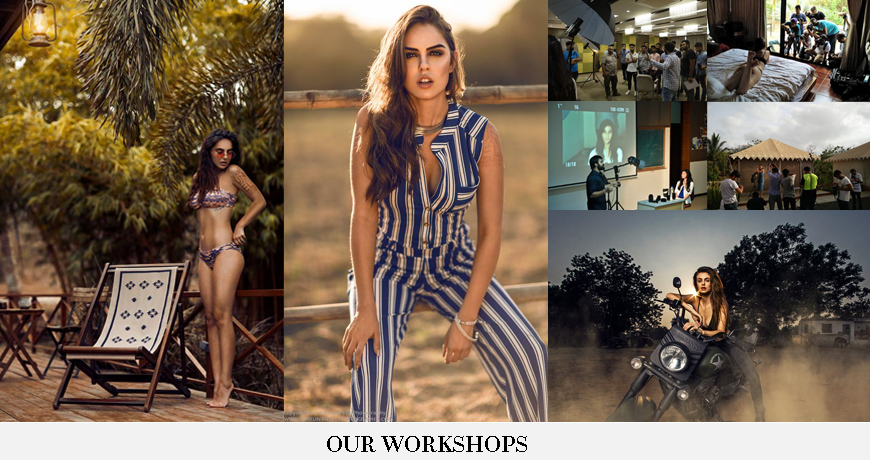 Description
Entery Requirements
Apply
The best photography workshops you will find in India.
Learn and shoot with our International models - Join our photography workshops. We have been organizing many high end photography workshops. Our photography workshops are very different then others, following are some reasons why. Limited number of students. We do not take like 20-30 students in our photography workshops. Our photography workshops are exclusive and we want to keep the quality before quantity. So to give personal attention and focus on each student in our photography workshops, we have limited seats in our all workshops. Amazing locations are the reason why our workshops are so famous. Our photography workshops are well known for our location selection. We have done workshops at all the exotic locations in India. From the Forests, to heritage properties every where you can ever imagine. Our recent workshop was at Udaipur City Rajasthan. Our International models are gonna blow your mind with some amazing poses. We are very choosy about the selection of our international models for our photography workshops. We bring you the best models from Russia, USA, Germany and many other countries. Question answer sessions for solving all your small doubts and queries. We have these sessions at the end of our each photography workshop. You can ask any question regarding photography. So you will never go back with any doubts in your mind regarding photography. Great makeup and styling team makes our all workshops glamorous. They are our people who bring the bling on our models with their amazing professional makeup and high fashion styling. So you get images with properly styled models. Professional lighting gear in every workshop. We have companies like PROFOTO collaborating with us for the photography workshops. So you get to use the high end professional lighting systems during our photography workshops.
1on1 after workshop sessions with Mr Varun Patel
Shoot with gorgeous International models
100% practical workshops
English, hindi, gujarati language options
Shoot with us on some serene locations
High end lighting system for students
A shoot cum vacation with amazing people
Meet many photography professionals
What you need if you want to join our photography workshops?
For our photography workshops, we are mostly collaborating with high end professional lighting companies. So all you need to bring is the DSLR camera system. And your swimming costume, as our photography workshops are organized at some amazing resorts. So when the workshops are done, we enjoy like anything. So it is more like partying with amazing models and photographers.
How to join our photography workshops?
The workshops we organize are on uncertain intervals. We do declare our workshops online publicly. But first we declare the workshop in our registered students list. As our seats are limited the chances of getting your seat in the workshop increases, if you are in the registered list. Registration for workshop updates is totally free. For registering yourself, all you have to do is, send a whatsapp on +91 9898550223 saying "Please register my number for workshop updates". And you will be added to our registered students list and will be updated whenever a new workshop is announced.
---